A new continental Narconon opens in the heart of Mexico to make drug-free lives a reality in Latin America
Formerly home to a world-renowned matador, the new Continental Narconon brings a promise of help and hope to Latin America. Narconon Latin America joined the growing roster of Continental Narconon facilities around the world on Saturday, September 12, in a celebration witnessed by hundreds of supporters, dignitaries and guests.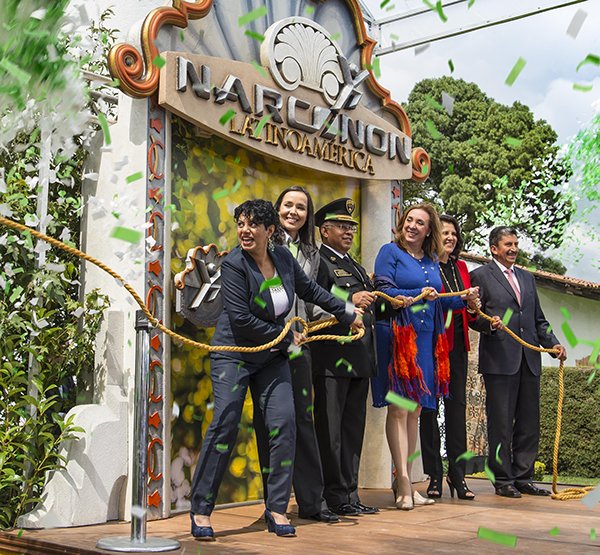 This new facility in Villa Victoria, constructed in 1880, is designed to deliver the famed Narconon drug-free rehab methods in a distraction-free setting that's perfectly suited to the needs of those seeking to overcome their addictions and live drug-free lives. It will also provide training for specialists looking to establish new Narconon centers in cities and towns throughout Mexico and Central and South America.
Beautiful, serene and secluded, it provides the perfect environment for those seeking to overcome addiction. Narconon Latin America is built around an interior courtyard surrounded by classicalarcaded walkways, providing students a tranquil and uniquely personal atmosphere.
Welcoming those who traveled to Villa Victoria, Mexico, from across Latin America, the President of the Association for Better Living and Education International (ABLE) declared this Narconon is ready to serve its entire region. "This brand new Narconon is a new type of center—a regional center that not only provides rehabilitation services but also trains professionals from the southern tip of Chile and Argentina, to Brazil, Venezuela and Colombia and of course all of Central America and Mexico," she said. "Drug and alcohol abuse have disastrous effects on society that reach far beyond the individual caught up in the grip of addiction. Narconon has a mission—to provide an effective path for rehabilitation from drug abuse and to assist society in preventing the plague of drugs in this region and worldwide. I believe you all share this mission with us."
Ms. Zuveldia Lizarraga, Executive Director for Narconon Latin America, agreed, saying, "We are very proud to present to you this magnificent center. With the Narconon program we have tools to not only help Mexico but the whole of Latin America. The Narconon program developed by Mr. L. Ron Hubbard has a success rate second to none. This unique drug-free approach has helped tens of thousands of individuals and families suffering from addiction. Every space of our new center has been designed with our students and trainees in mind. It is all here to service this community and the entire continent."
Congresswoman Ms. Ana Luisa Valdés knows firsthand the results of the Narconon program. "I was able to establish a government-supported Narconon center to help solve the problems of drugs that beset our society. Since then, and for over 10 years, my Narconon center has produced success after success in rehabilitating addicts. Through Narconon, we are giving an answer to the problem of drugs to a society that does not know what to do about it. Narconon must be promoted on every airwave, by every TV station, on every possible channel, in every city of Latin America."
Region XIX Police Commander Benjamin Salvador Jimenez said, "It gives me great pride that you chose the State of Mexico for this center. I very much hope that this will be the seed from which the Narconon movement will grow, reaching out across all cities in Mexico to every Latin country."
Welcoming Narconon on behalf of the municipality of Villa Victoria, Mr. Napoleon Yañez said, "It is no secret to anyone that drug consumption is one of the biggest challenges that face any government. I could not be happier to welcome these facilities into Villa Victoria. It is truly a source of pride that an international drug rehabilitation organization such as Narconon, with decades of experience, chose our municipality to establish its headquarters for Latin America."
The dedication's final speaker, Ms. Rosi Orozco—former Congresswoman and President of the nongovernmental Commission United Against Human Trafficking—shared her own passion for the Narconon program and what it means in a country so threatened by drugs at every level of society.
"Cartels have increasingly turned to human trafficking as a venue for their criminal earnings, and it is easy to see that it goes hand in hand with drug addiction," Ms. Orozco emphasized. "Drugs are a means that criminal organizations use to catch their victims. We intend to establish the first shelter for human trafficking victims that can also serve as a Narconon rehabilitation center. In short, I think that Narconon is the solution!"
__________
For nearly 50 years, Narconon has saved the lives of countless individuals who were thought lost to substance abuse forever. Its mission is to provide an effective path for drug abuse rehabilitation and to assist society in reversing the scourge of drug abuse worldwide.
For more information on the Narconon program and our international network of centers across 50 nations, please call 1-800-737-5250.