Drug Rehab for Broken Arrow, Oklahoma
Narconon Arrowhead in Canadian, Oklahoma is only a short drive away from Broken Arrow, providing the help an addict needs to live a happy and productive life without drugs. This residential facility has comfortable accommodations overlooking Lake Eufaula where an addicted person can address addiction thoroughly, both mentally and physically. The Narconon program addresses each person individually, as each individual had his own reasons to start using drugs or alcohol in the first place.
The Objective at the Narconon Center is Long-Term Stable Recovery
A recovering addict must learn how to go back out into the world after rehab and control his choices and come to proper conclusions in dealing with life's twists and turns. The Narconon Life Skills Courses provide a student with the tools needed to succeed if life without drugs. Self-realization is important, and on this series of courses he comes to many realizations that add up to his being able to live a drug-free life.
On the Personal Values and Integrity Course the recovering person learns why he (or she) became disassociated from people in his life and how his misconduct led him on the wrong path. As he identifies the damage he was responsible for, and finds out how to repair it, he makes great strides towards living a life of honesty and integrity. He also feels great relief as he sheds the guilt related to his past misconduct.
Narconon is a Workable Solution to Addiction
Of course, the first step when the person arrives at Narconon is a drugless withdrawal. Using no substitute drugs such as methadone or Suboxone, the recovering addict is much better able to tolerate the withdrawal process. Nutritional support also assists in recovery. The experienced and trained staff provide additional help by administering gentle relaxation and reorientation techniques. Around-the-clock care is given if needed.
Drug residues linger in the body long after a person has stopped using drugs. These residual drugs remain lodged in the fatty tissues of the body, causing muddled and confused thinking and sparking irrational conduct. These residual toxins are also known to be involved in triggering drug cravings. The Narconon New Life Detoxification flushes out these poisonous drug residues using a combination of vitamin and mineral supplements, moderate exercise and time in a low heat sauna. This results in a clearer mind and body. Many who complete this phase of the program say their drug cravings have disappeared.
Narconon is an Effective and Holistic Drug Rehab for Broken Arrow, Oklahoma
Wagoner County and Broken Arrow see a large amount of crime related to the drug trafficking and abuse in the region. Recently the Wagoner County Sheriff's Office arrested eight men who were dealing drugs in Wagoner County. They were selling methamphetamine, cocaine and marijuana in quantity throughout the area. This bust was part of a large operation in getting drug dealers off the streets. It is known that these criminals are creating and feeding addicts, infiltrating our homes, schools and businesses.
Later, another woman was arrested who was involved in the same drug ring. She was a school teacher at a Junior High School, in close contact with innocent children. Four others were arrested during the same time period. Although a large number of people have recently been stopped from dealing drugs, unfortunately, others just come in to fill their shoes. Law enforcement finds it an uphill battle in bringing drug trafficking under control as many illegal substances continue to make their way from Mexico drug cartels into Oklahoma.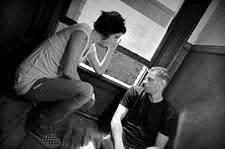 Addiction results in destroyed lives. An addict pushes everything aside except his intense cravings and desire for more drugs or alcohol. His addiction controls his every waking hour. He can't function properly at a job, he begins to lie, cheat and steal. His friends and family see that he is lost and despairing. The only possible solution is to find an effective drug rehab for Broken Arrow that can provide lasting recovery. The Narconon drug and alcohol rehabilitation center in Canadian, Oklahoma is that solution.
Broken Arrow lies within Tulsa and Wagoner Counties, an area that is considered a high intensity drug trafficking region by law enforcement. The drug-related activity in this area poses many threats to citizens of Broken Arrow, including the abuse of methamphetamine, illicit prescription drugs and marijuana, as well as the crime and violence coming from the Mexican drug trafficking organizations that operate here. Methamphetamine distribution poses the greatest threat, with growing numbers of meth labs in the region.
Violence is a danger to anyone with any association with the criminals dealing in illicit drugs. Recently a Broken Arrow man was arrested with a huge marijuana growing operation. He had over 400 marijuana plants, and weapons were found in his vehicle and home. With drugs so easily available and crime right on his doorstep, an addict must find effective help to leave drugs behind.
Narconon has the workable solution for addiction. An addict can find fresh hope, with lasting recovery with premiere treatment designed to assist him in leaving drugs behind. An addict comes in with drugs owning them and leaves with a new drug-free life where they can have a fulfilling and productive future with abundant happiness. Contact Narconon today.
---
Resources: